ATTENTION
TALK PAGES ARE NO LONGER USED
To discuss article changes, please use:
If you see comments on this page, they remain for archive purposes.
NEWLY ADDED COMMENTS WILL BE REMOVED
French posters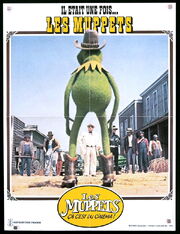 I've got this Western-themed poster from France on my hard drive saved from Frog-knows-when. The design and logo match a series of other posters we have on the wiki (such as Jaws, James Bond, and Star Wars) that were also done as postcards and possibly in some other countries. I once happened upon a random forum post where someone was talking about having acquired others in this series. I tracked him down on MySpace, and received one reply confirming that he had a Muppet Superman spoof poster in this style. I haven't heard back from him in some time, and he's been my only lead. Does anyone know anything about these posters, or ever heard of the Superman one? —Scott (talk) 03:38, 15 April 2009 (UTC)
I found it! —Scott (talk) 21:33, February 4, 2010 (UTC)
High-res
Do these posters all have to be high-res scans? Because if not, I'll be heavily updating this section. -- Cantus Rock
Ad blocker interference detected!
Wikia is a free-to-use site that makes money from advertising. We have a modified experience for viewers using ad blockers

Wikia is not accessible if you've made further modifications. Remove the custom ad blocker rule(s) and the page will load as expected.