Talk:Mr. Willowby's Christmas Tree
Ad blocker interference detected!
Wikia is a free-to-use site that makes money from advertising. We have a modified experience for viewers using ad blockers

Wikia is not accessible if you've made further modifications. Remove the custom ad blocker rule(s) and the page will load as expected.
ATTENTION
TALK PAGES ARE NO LONGER USED
To discuss article changes, please use:

If you see comments on this page, they remain for archive purposes.
Spanish DVD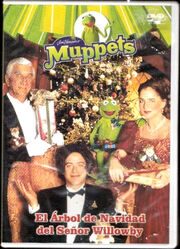 What's the source for this? It looks like a bootleg. — scarecroe
22:41, November 29, 2010 (UTC)
It's not, I'll get a scan up soon! Often these international releases look like bootlegs, for some reason they just dont have the same quality and design like US or UK sleeves Wozza 23:12, November 29, 2010 (UTC)
I think it's just very bad art, which I've seen on other foreign DVDs. This *appears* to be for the Latin American market (or the Spanish one was just made available there), and I found it here (likely Warrick's source as well, or one of them), but they give the date as 2002, which means it's out of print (I haven't had such an easy time finding Mexican DVDs of the main Muppet movies either, which is more surprising, and of course the problems in Mexico haven't helped). It could still be a bootleg, since I can't find anything to indicate a manufacturer/label, but a search shows that Tecnológico de Monterrey (a technical school) has, at its Hidalgo campus film library, a copy of this same commercial DVD. So that makes a bootleg less likely and bad art design more likely (also, given the 2002 date, this would have been pre-Disney sale, so possibly through Columbia/Sony or someone else who doesn't keep as strong a handle on their overseas packaging). I have an Israeli Wubbulous World DVD which looks pretty darn bad and includes some photoshopping of Seuss drawings as well. All of this is theory mind, but bootleg really seems the least likely (that said, since we know so little about it for sure, and it's not a very good pic, I'd be for either minimizing in a gallery or just parking it here for now).
EDIT: cross-posted with Warrick, heh. Nice to know my surmise was correct though. -- Andrew Leal (talk) 23:17, November 29, 2010 (UTC)
Sweet, thanks guys! Looking forward to the better scan :) — scarecroe 23:31, November 29, 2010 (UTC)
I'll scan the front and back asap. My source for the 2009 is obviously way off. It's winging its way to me now! Wozza 23:32, November 29, 2010 (UTC)
W just sent me a bit of it, definitely not a bootleg! (Due to the picture quality, menus etc.) Tygerbug (talk) 00:09, November 17, 2013 (UTC)