ATTENTION
TALK PAGES ARE NO LONGER USED
To discuss article changes, please use:

If you see comments on this page, they remain for archive purposes.
Name of this character
I got the danish translation of the book, so I don't know the english name for this character.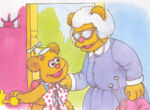 I know that it'sFozzies babysitter and that her danish name is
Fru. Kjær
.
rytter
18:16, 26 July 2006 (UTC)