ATTENTION
TALK PAGES ARE NO LONGER USED
To discuss article changes, please use:
If you see comments on this page, they remain for archive purposes.
NEWLY ADDED COMMENTS WILL BE REMOVED
magazine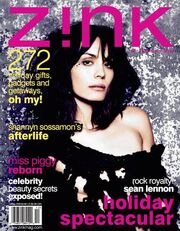 According to this forum thread some of these photos appeared in the 2006 Holiday issue of Zink. Just noting that here in case anyone wanted to seek it out for better quality scans. —Scott (talk) 22:00, July 17, 2010 (UTC)
perform
Did Piggy sing a song? —Scott (talk) 17:02, 25 August 2009 (UTC)
As far as I can find out, she did not. I didn't find out about it til after the fact, otherwise I would have loved to gone up there to see the display. I've got more pictures to add, but pretty much it looks like she just did a little cameo twice, and was also in a video presentation. One of the press videos I saw mentioned she wasn't speaking backstage to "save her voice", so I'm wondering who performed the pig. -- Nate (talk) 20:14, 25 August 2009 (UTC)
Ad blocker interference detected!
Wikia is a free-to-use site that makes money from advertising. We have a modified experience for viewers using ad blockers

Wikia is not accessible if you've made further modifications. Remove the custom ad blocker rule(s) and the page will load as expected.