ATTENTION
TALK PAGES ARE NO LONGER USED
To discuss article changes, please use:
If you see comments on this page, they remain for archive purposes.
NEWLY ADDED COMMENTS WILL BE REMOVED
Louie's design
The article says that Louie's design changed for Sesame Beginnings in 2006, but it looks like it's more or less the same design in this book, published in 2001. Does Elmo's dad appear like this in other books, pre-2006? -- Danny (talk) 12:36, 1 January 2008 (UTC)
I don't see any statement like that. It discusses the slight design change between Sesame Beginnings and the resource videos, makes a distinction between the earlier books where it's just "Elmo's dad" as an Elmo look-alike, and notes that "more recent" books feature much the same design. Probably it was a gradual shift circa 2000, and the puppet reflected that shift. It would be nice to find more examples to demonstrate this. They're probably out there. I know Red or Blue, I Like You!, from 2005, features a proto-Louie, only with a tie and a triangular nose. -- Andrew Leal (talk) 12:50, 1 January 2008 (UTC)

That's how I read this passage: "In such titles as Elmo Gets Homesick and When Is My Birthday?, Elmo's dad resembles an adult version of Elmo. However, in the more recent illustrations and books, the character holds true to the current Louie, as seen in Sesame Beginnings." The phrase "as seen in Sesame Beginnings" implies (to me, at least) that those books come after the SB videos.
So, yeah, this would be a fun thing to research. I'd do it right now, but alas, books are packed. Darn this move. -- Danny (talk) 12:57, 1 January 2008 (UTC)

I think that passage was added mostly to counter one user who kept making weird changes, but I still think it just notes that these recent books match the puppet version, not making an argument that all other versions are such; "as seen in" is hardly the same as "changed for Sesame Beginnings." -- Andrew Leal (talk) 13:40, 1 January 2008 (UTC)
Louie's huge!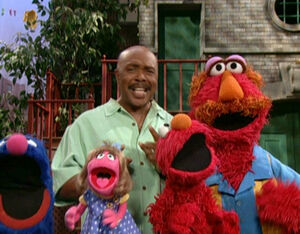 I'm parking this image here as an example of just how big of a puppet Louie is. Elmo's Potty Time is the first time he's been seen next to a human for size comparison. Presumably he was built that large for Sesame Beginnings as the baby puppets coupld only be so small. — Scott (talk) 15:32, 14 August 2006 (UTC)
Louie!
Well, it seems that the official name for Elmo's Dad, at least in Sesame Beginnings, is indeed not George Monster, but Louie, as reported here, and also here. Should this page be renamed? And does anyone know if any of the other Beginnings caregivers, outside of Nani Bird, have names? --Andrew, Aleal 18:56, 22 April 2006 (UTC)
I would like to wait until we directly hear him called Louie in a production. Those are good sources, but I've seen SW press material be wrong before. There are more Sesame Beginnings videos coming, and now the Iraq war special, so we'll see soon enough. -- Scott Hanson (talk) 21:12, 7 May 2006 (UTC)
Ad blocker interference detected!
Wikia is a free-to-use site that makes money from advertising. We have a modified experience for viewers using ad blockers

Wikia is not accessible if you've made further modifications. Remove the custom ad blocker rule(s) and the page will load as expected.