ATTENTION
TALK PAGES ARE NO LONGER USED
To discuss article changes, please use:
If you see comments on this page, they remain for archive purposes.
NEWLY ADDED COMMENTS WILL BE REMOVED
Title
I found an ebay listing for a variant of this album; same basic cover picture, same CTW-22055 number, but the title is just "Letters and Numbers", and the cover is red. I considered adding it as an alternate cover, but it's an alternate title too. Anybody know anything about this? -- Wendy (talk) 04:59, 2 February 2007 (UTC)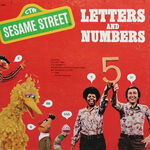 That one's long gone I fear (which is why I removed the link), but I was able to find a rather poor scan of one as you see. It's really just the same cover with a different color background. -- Wendy (talk) 13:37, 15 March 2007 (UTC)

Thanks for finding that! To me, that's enough of a variant to be included. They blew up the sign, moved the catalog number to the opposite corner, changed the color of the cover, and took out the reference to the old standard, "I'm Gonna Sit Right Down and Write Myself a Letter". And they got rid of the (...) and "too!" on top of that, which changes the title in all future listings. I'm going to put it in the article. -- Ken (talk) 01:49, 16 March 2007 (UTC)
Ad blocker interference detected!
Wikia is a free-to-use site that makes money from advertising. We have a modified experience for viewers using ad blockers

Wikia is not accessible if you've made further modifications. Remove the custom ad blocker rule(s) and the page will load as expected.