ATTENTION
TALK PAGES ARE NO LONGER USED
To discuss article changes, please use:

If you see comments on this page, they remain for archive purposes.
For collectors ...
A rundown of the different ways the intro to this song has been edited:
A) Numbers! LP and cassette
B) The Best of Big Bird LP, The Bird is the Word! CD
C) 10th Anniversary Album
D) Numbers! CD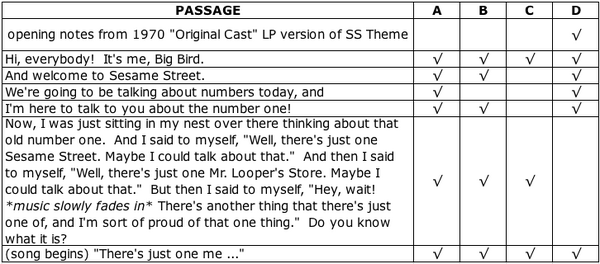 These are the ones I've noticed. Am I correct? --MuppetVJ 23:32, 31 May 2007 (UTC)
Shown on TV??
Either my memory is way off or I'm the only one I can find that seems to recall seeing this song performed on the show. I was watching the show in the early 90s, and I swear to God I remember seeing this song at least once on the show but can find no traces of it ever being performed on the show here on the net. I distinctly remember Big Bird singing this song with a big, red number 1 in his nest. And I had this song on both the Anniversary Album and the Best of Big Bird, so it seems like I would have known whether that was or wasn't the song. Did anybody else ever see this song performed on the show? I know that there are other songs believed to be "audio only" that are rumored to have possibly been shown on the show at least once, so I guess it's not completely out of the question that I caught a rare glimpse of the song. Any info appreciated. Thanks. DisneyFan89 (talk) 22:03, January 5, 2014 (UTC)