Ad blocker interference detected!
Wikia is a free-to-use site that makes money from advertising. We have a modified experience for viewers using ad blockers

Wikia is not accessible if you've made further modifications. Remove the custom ad blocker rule(s) and the page will load as expected.
ATTENTION
TALK PAGES ARE NO LONGER USED
To discuss article changes, please use:

If you see comments on this page, they remain for archive purposes.
For collectors ...
A rundown of the different ways the intro to this song has been edited:
A) Numbers! LP and cassette
B) The Best of Big Bird LP, The Bird is the Word! CD
C) 10th Anniversary Album
D) Numbers! CD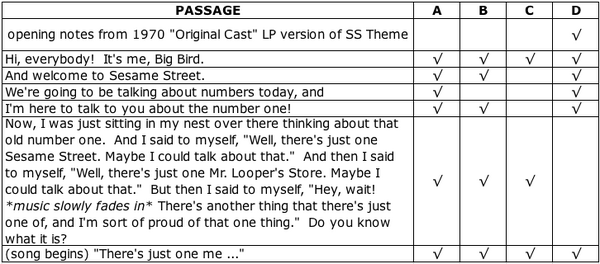 These are the ones I've noticed. Am I correct? --MuppetVJ 23:32, 31 May 2007 (UTC)
Shown on TV??
Either my memory is way off or I'm the only one I can find that seems to recall seeing this song performed on the show. I was watching the show in the early 90s, and I swear to God I remember seeing this song at least once on the show but can find no traces of it ever being performed on the show here on the net. I distinctly remember Big Bird singing this song with a big, red number 1 in his nest. And I had this song on both the Anniversary Album and the Best of Big Bird, so it seems like I would have known whether that was or wasn't the song. Did anybody else ever see this song performed on the show? I know that there are other songs believed to be "audio only" that are rumored to have possibly been shown on the show at least once, so I guess it's not completely out of the question that I caught a rare glimpse of the song. Any info appreciated. Thanks. DisneyFan89 (talk) 22:03, January 5, 2014 (UTC)