ATTENTION
TALK PAGES ARE NO LONGER USED
To discuss article changes, please use:
If you see comments on this page, they remain for archive purposes.
NEWLY ADDED COMMENTS WILL BE REMOVED
First Appearance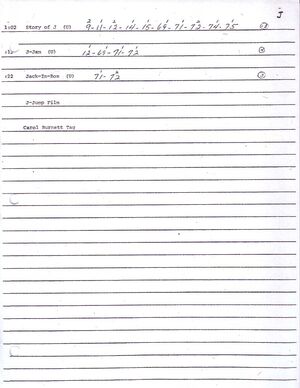 On this page, the "first appearance" box is used, instead of the "earliest known appearance". Is there a source that Episode 0131 is, in fact, the first appearance of this film, or should this be changed to "earliest known apearance"? The CTW Archives "first season show content" lists "J Jump film" in it's page for J segments, though no episode numbers are given, which could mean that it was held over until the second season, or that epsiode numbers just weren't listed for some reason (like with some of the Jazz Numbers segments). Or this could be a different film about the letter J that hapens to invovle the word jump (there are been other segments for J that taught the word "jump"). I've provided a scan of that page, but I think we should at least change the box. --Minor muppetz 18:56, 27 December 2007 (UTC)
Done. If Danny or anyone has specific information, we can change it later, but looking through the history, Wendy just re-formatted a statement (which had been there since the article began) into a box. -- Andrew Leal (talk) 23:00, 8 January 2008 (UTC)
Ad blocker interference detected!
Wikia is a free-to-use site that makes money from advertising. We have a modified experience for viewers using ad blockers

Wikia is not accessible if you've made further modifications. Remove the custom ad blocker rule(s) and the page will load as expected.