Ad blocker interference detected!
Wikia is a free-to-use site that makes money from advertising. We have a modified experience for viewers using ad blockers

Wikia is not accessible if you've made further modifications. Remove the custom ad blocker rule(s) and the page will load as expected.
ATTENTION
TALK PAGES ARE NO LONGER USED
To discuss article changes, please use:

If you see comments on this page, they remain for archive purposes.
Rowlf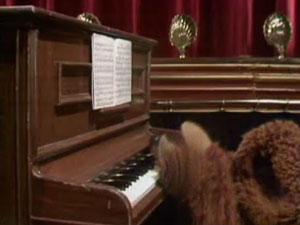 Where'd the bit about Rowlf banging his head on the keyboard in this article come from?? Is it really the only time he's done that? -- Wendy (talk) 23:49, 19 June 2006 (UTC)
I believe Jog added that bit of info. I don't know of it being the only case, but as evidenced by the screenshot shown here, he does indeed use the back of his head to hit a chord. It's one of the last of several quick cuts made back to him in a series of hard chords struck during the song alternating between piano, and Animal on drums. I can't recall any other times Rowlf did such a thing, but it does seem slightly out of character for most of his piano spots unless the situation called for it, such as it was in this number. -- Scott (talk) 00:16, 20 June 2006 (UTC)
Similarity?
How is this similar to Since You've Gone? -- Scott Scarecroe 20:46, 8 March 2006 (UTC)
It's the exact same setting, as performed by the orchestra in the orchestra pit. Directorially speaking, both clips are almost exactly the same: the order of the solos, and camera angles, are almost the same in each number (shot of entire orchestra with Lips on trumpet, Janice's solo, Rowlf's solo, Zoot/Floyd, Animal, entire orchestra finish). The only differences are the musical numbers, and the fact that Janice plays guitar in this song and banjo in After You've Gone. -- Jog 23:07, 8 March 2006 (UTC)
That's great! I added that info to the article. Feel free to edit where needed. -- Scott Scarecroe 16:31, 9 March 2006 (UTC)