ATTENTION
TALK PAGES ARE NO LONGER USED
To discuss article changes, please use:
If you see comments on this page, they remain for archive purposes.
NEWLY ADDED COMMENTS WILL BE REMOVED
Bob the Blob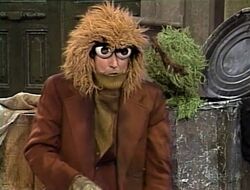 Bob disguises himself as a Grouch to appear on Oscar's game show Real Grouches. (YouTube) Is this honorary Muppet material or not? -- Brad D. (talk) 06:39, 29 December 2008 (UTC)
And the Kermie goes to...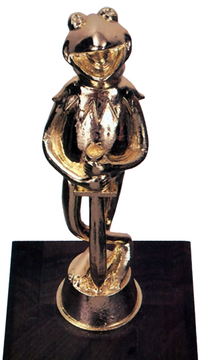 The leading space on this article is far too short to include this picture, but I wanted ot park this here in case we had another place for it I didn't think of. It's also possible the leading text might eventually accumulate enough to support it here, but not likely anytime soon as far as I can see. —Scott (talk) 02:09, 13 March 2008 (UTC)
Little Richard
Should Little Richard count as an honorary Muppet? In one of his sceens from his appearance on Muppets Tonight, Beaker does an impression, and the real Little Richard portrayed the impersonation, wearing Beaker's clothing and having his hands. --Minor muppetz 02:05, 29 January 2008 (UTC)
include?
Does anyone have a case against including the following? Harvey Korman and Jon Voight in Muppet chicken suits; Don Rickles in a Kermit suit; Louie Anderson as a "Muppefied" bunny; Goldie Hawn turned into a Muppet. -- Scott (talk) 21:30, 8 July 2006 (UTC)
Ad blocker interference detected!
Wikia is a free-to-use site that makes money from advertising. We have a modified experience for viewers using ad blockers

Wikia is not accessible if you've made further modifications. Remove the custom ad blocker rule(s) and the page will load as expected.