ATTENTION
TALK PAGES ARE NO LONGER USED
To discuss article changes, please use:
If you see comments on this page, they remain for archive purposes.
NEWLY ADDED COMMENTS WILL BE REMOVED
Help, We're Stuck!
The issue in question is unresolved. Can you help?
Cite
"Her IMDb listing also says that Heather appeared in The Frog Prince in 1971, as Princess Melora and Prince Robin's baby, Little Prince Kermit."
We need a better source than IMDb for this. I've taken the info off the page because it looked like we were apologizing for citing IMDb on its supposed claim. — Scott (talk) 18:43, 6 February 2007 (UTC)
Attention
The mention of her appearance in Muppet Magazine is as vague as it can possibly be. Can anyone elaborate? Also, the "official bio" suggests it was taken from an official source, which I'm assuming it was. If anyone feels like taking a crack at it, it's one of many that should be rewritten for our purposes. — Scott (talk) 22:09, 2 February 2007 (UTC)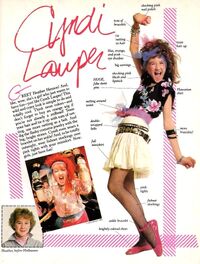 Heather was in a handful of Muppet Magazine issues. I do that know she was in issue 8 showing how to dress as Cyndi Lauper for Halloween. -- Brad D. (talk) 17:33, 3 February 2007 (UTC)
Frog Prince
What did she do in the Frog Prince? GrantHarding 00:20, 15 February 2006 (UTC)
She was supposedly Little Prince Kermit at the end. Philo & Gunge

That's adorable. Someone should put that in the article. (Do we have a source for that?) GrantHarding 07:35, 23 February 2006 (UTC)
Ad blocker interference detected!
Wikia is a free-to-use site that makes money from advertising. We have a modified experience for viewers using ad blockers

Wikia is not accessible if you've made further modifications. Remove the custom ad blocker rule(s) and the page will load as expected.