ATTENTION
TALK PAGES ARE NO LONGER USED
To discuss article changes, please use:
If you see comments on this page, they remain for archive purposes.
NEWLY ADDED COMMENTS WILL BE REMOVED
Picture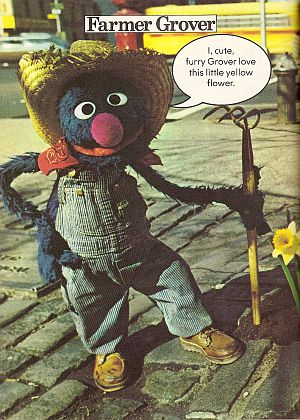 Just to cut down on the leaping from the Super Grover talkpage to this article, putting this here: photo page from the Treasury volume (which I'm pretty sure was recycled from the Library, with the other Charles Rowan captioned photo pages). It's labeled "Farmer Grover," but Grover just says he's his furry self. Of course, he's growing this flower on a city street anyway, but it's cute and close enough to work into the page. A thought might be to take out the sketch table (since only one fully fits anyway, and the images have homes elsewhere), add a full brief paragraph discussing the one sketch and touching on what we've uncovered about Farmer Grover's book career beyond just the list, and use this as the main picture. I may take a stab at it tomorrow, but not tonight. -- Andrew Leal (talk) 03:36, 7 July 2008 (UTC)
Is Farmer Grover a character?
See the discussion at Talk:Super Grover.
Ad blocker interference detected!
Wikia is a free-to-use site that makes money from advertising. We have a modified experience for viewers using ad blockers

Wikia is not accessible if you've made further modifications. Remove the custom ad blocker rule(s) and the page will load as expected.