ATTENTION
TALK PAGES ARE NO LONGER USED
To discuss article changes, please use:
If you see comments on this page, they remain for archive purposes.
NEWLY ADDED COMMENTS WILL BE REMOVED
Clarification on the 2 versions?
The re-filmed version of this is also a different recording, as the lyrics "all animals and people, every day of the week" are replaced with "mountaineers on mountaintops, and divers in the deep". Is Raposo singing both versions? If not, who is? If so, did the re-filmed version appear before the 90s? Are both versions of the recording used with the original footage at some point, or did they redo the film & the song at the same time? --Kate 16:19, April 26, 2010 (UTC)
John Lennon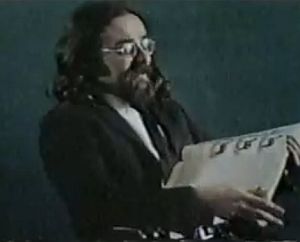 User:Jadekoolkat posted that the man in the original version of this song was John Lennon. Is that true? -- Danny
(talk) 07:21, 3 December 2008 (UTC)
Nope. It's some long-haired, bearded actor playing a professor type, but as seen from the screengrab, clearly not John Lennon. I reverted. -- Andrew Leal (talk) 10:13, 3 December 2008 (UTC)
Ad blocker interference detected!
Wikia is a free-to-use site that makes money from advertising. We have a modified experience for viewers using ad blockers

Wikia is not accessible if you've made further modifications. Remove the custom ad blocker rule(s) and the page will load as expected.