ATTENTION
TALK PAGES ARE NO LONGER USED
To discuss article changes, please use:
If you see comments on this page, they remain for archive purposes.
NEWLY ADDED COMMENTS WILL BE REMOVED
Noggin edit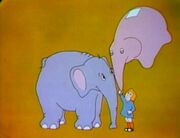 This brief frame appears between the Ernie/Bert/Shola and Kermit/Grover sketches, so it's clearly a segment cut out by Noggin, but I have no idea what the segment is. Anyone know? I can't find anything on SS.org under "elephant". - Oscarfan (talk) 04:40, November 4, 2012 (UTC)
I remember seeing it in an Iftah Ya Simsim episode; they demonstrate heavy and light (but I'm not too sure how). -- MuppetDude (talk) 16:08, February 8, 2013 (UTC)
Ad blocker interference detected!
Wikia is a free-to-use site that makes money from advertising. We have a modified experience for viewers using ad blockers

Wikia is not accessible if you've made further modifications. Remove the custom ad blocker rule(s) and the page will load as expected.