ATTENTION
TALK PAGES ARE NO LONGER USED
To discuss article changes, please use:
If you see comments on this page, they remain for archive purposes.
NEWLY ADDED COMMENTS WILL BE REMOVED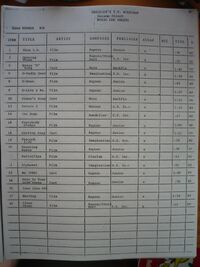 Jerry Nelson in Everybody Sleeps?
First scene, thrashing in the bed. I swear it's Nelson. Thoughts?
Noggin or episode editing?
A short time ago, I was sent a Noggin link of this episode, and I observed how Cookie Monster does not in this case faint at the end of "Dee, dee, dee". I've never seen the Old School DVD, so I'm a bit curious: was this cutting done by Noggin, or did it fail to appear in the actual episode? Garrettk41 00:34, January 7, 2010 (UTC)
The faint is also cut in Old School: Volume 1, so it must have been cut from this episode. --Minor muppetz 02:45, January 7, 2010 (UTC)
Thanks. Garrettk41 02:55, January 7, 2010 (UTC)
Ad blocker interference detected!
Wikia is a free-to-use site that makes money from advertising. We have a modified experience for viewers using ad blockers

Wikia is not accessible if you've made further modifications. Remove the custom ad blocker rule(s) and the page will load as expected.