ATTENTION
TALK PAGES ARE NO LONGER USED
To discuss article changes, please use:
If you see comments on this page, they remain for archive purposes.
NEWLY ADDED COMMENTS WILL BE REMOVED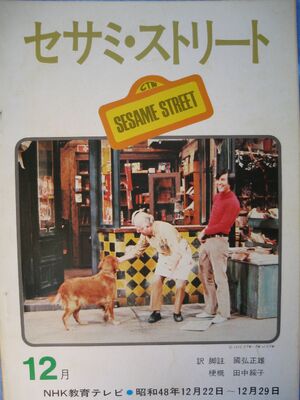 Episode guide
My source for the additions I just made to this page is an episode guide published by CTW in Japan. Half of it is in Japanese, which I can't read, but enough is in English to have a lot of info like sketch titles and descriptions/keywords/partial scripts that help me describe clips or identify ones we know about. It is organized by episode, and everything I can cross-reference against episodes we have or episode content compiled from CTW archive material checks out. The citation on the CTW archive info is so meticulous I want to copy that, but I don't quite know how to cite what I can get from here (publication info is in Japanese...). I also don't know what the procedure is on sketches I can't positively identify, such as "G - Glue"--here I just wrote exactly what it says in the book. For identifiable sketches, I copied the description from the other wiki page so people can search things easier. Anyway, this is one of many episodes that I can add to, but I don't want to start changing things, or changing EKA links, without clearing it with people first. StreetScenes 20:21, January 30, 2010 (UTC)
and this episode guide labels both cartoons and stop-motion animation as "animated film" so i'll do the same if I can't identify the clip (like the g - glue one in this episode.) StreetScenes 20:52, January 30, 2010 (UTC)
Ad blocker interference detected!
Wikia is a free-to-use site that makes money from advertising. We have a modified experience for viewers using ad blockers

Wikia is not accessible if you've made further modifications. Remove the custom ad blocker rule(s) and the page will load as expected.