ATTENTION
TALK PAGES ARE NO LONGER USED
To discuss article changes, please use:
If you see comments on this page, they remain for archive purposes.
NEWLY ADDED COMMENTS WILL BE REMOVED
H Segment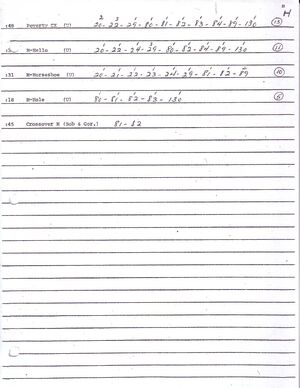 There is a segment in this episode where Bob and Gordon put an H together. The CTW Archives "First Season Show Content" page for H (which I've included here) lists a segment called "Crossover H", which mentions that Bob and Gordon appear in it. Those documents mention several letter segments that begin with "Crossover" in the title, followed by the letter, and I've been wondering what these sketches were, and I think I've found my answer. The earliest-known (or is it first?) appearance listed is Episode 0081. Should we assume that it's that segment, based on evidence that I've provided, or should we not put an EKA there? --Minor muppetz 00:38, 30 March 2008 (UTC)
I think I've found an answer to my question. Looking at some of the first season episode pages, Episode 0083 has a similar sketch about the letter A, with Bob and Mr. Hooper, and the document for A sketches refers to a "Crossover A" appearing in that epsiode, and mentioning that Bob and Mr. Hooper are in it. Now I wonder if these crossovber letter sketches should have their own page or be included in the Sesame Street Letter Segments page. --Minor muppetz 02:05, 30 March 2008 (UTC)

Since there's very little to say about them and we have very few examples, just put any you find on the Letter page. -- Andrew Leal (talk) 03:51, 10 April 2008 (UTC)
Somewhere to watch the segments?
Has anyone posted any of the segments of this episode on YouTube or something similar? I really want to see "There Once Was a Hand" again. In fact, I'm thinkin' of startin' an entry on that segment and its spin-offs. Peace. MuzikJunky 06:58, 7 December 2007 (UTC)
Title Card
I find it amazing that the epsiode number card is included on this page. I thought that Noggin edited the opening animated epsiode number sequences. Did Noggin leave this one in? --Minor muppetz 19:59, 10 May 2007 (UTC)
Yes, and it was the only opening left in. -- MuppetDude 13:10, 11 May 2007 (UTC)
Ad blocker interference detected!
Wikia is a free-to-use site that makes money from advertising. We have a modified experience for viewers using ad blockers

Wikia is not accessible if you've made further modifications. Remove the custom ad blocker rule(s) and the page will load as expected.