ATTENTION
TALK PAGES ARE NO LONGER USED
To discuss article changes, please use:

If you see comments on this page, they remain for archive purposes.
limited release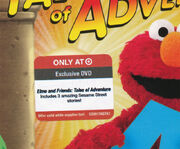 This is advertised as a limited release and I had a hard time tracking it down, so I'm going to provide some extra information here. Out of the 5 Targets I called in the area, only one of them had it, and only had one copy left. The other stores all had only one on backorder, but never received the shipment.
In-store DPCI: 058-10-2320
Catalogue: SS00159-OCRD1
Target sticker: SS00159STK1
UPC code: 891264001595
So, there we go, in case others are having trouble finding it. —Scott (talk) 00:22, 9 October 2008 (UTC)