Ad blocker interference detected!
Wikia is a free-to-use site that makes money from advertising. We have a modified experience for viewers using ad blockers

Wikia is not accessible if you've made further modifications. Remove the custom ad blocker rule(s) and the page will load as expected.
ATTENTION
TALK PAGES ARE NO LONGER USED
To discuss article changes, please use:

If you see comments on this page, they remain for archive purposes.
The name of the Day Care Center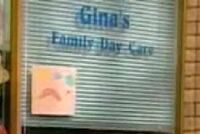 I was watching A Is for Asthma and I notice that most of the scene takes place on the outside of supposedly this day care center, but with the name, "Gina's Family Day Care," on the window (See Picture). I was wondering if this is the same day care when Gina took over in Season 29 1998 and if so, does this mean that the day care's name kept changing through different owners and what was the name of the day care when they were the owners? For example, when Angela was the owner, did she had the daycare name Angela's Family Day Care? Or if it was call "Day Care Center," but had different owners and the center had Gina's name only for the resource video. Anyway, just want to say it and see if someone can clear it up or has any ideas who have the day care scenes from Season 21 or Season 25. -- Rocket Stevo (talk) 08:02, 6 November 2008 (UTC)
Day Care Tenure?
Does anyone recall when the Day Care first appeared as a set? Lillian ran it as early as 1989, but was it ever shown, or was it mainly an interior? If it already existed physically on the street, should that be noted, even if it was trumpeted as an "Around the Corner" expansion? And as always, interior or exterior images are welcomed. (I'm having too much fun with locations; anonymous set designers and dressers, your work is celebrated here!) --Andrew