ATTENTION
TALK PAGES ARE NO LONGER USED
To discuss article changes, please use:
If you see comments on this page, they remain for archive purposes.
NEWLY ADDED COMMENTS WILL BE REMOVED
more chickens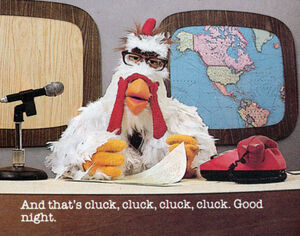 Since the D23 examples were added here, does this mean we want to use this space for any occurrences in which characters turn into chickens? Because there's this from the Fall 1984 issue of Muppet Magazine. —Scott (talk) 22:38, November 1, 2009 (UTC)
I'd say include them but not in the same gallery headed "Characters infected with Cluckitis," which is easily done ("Other Chicken Transformations," "Related Transformations," or even making it a sort of visual "See also" would work, I think). -- Andrew Leal (talk) 06:12, November 2, 2009 (UTC)
Ad blocker interference detected!
Wikia is a free-to-use site that makes money from advertising. We have a modified experience for viewers using ad blockers

Wikia is not accessible if you've made further modifications. Remove the custom ad blocker rule(s) and the page will load as expected.