ATTENTION
TALK PAGES ARE NO LONGER USED
To discuss article changes, please use:
If you see comments on this page, they remain for archive purposes.
NEWLY ADDED COMMENTS WILL BE REMOVED
Almighty Dollar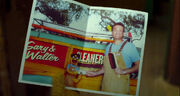 I think it's in Jim Henson: The Works where Jim Henson's "Shrine to the Almighty Dollar" is described. I need to find the quote for this article, but in the meantime, this proud display of a dollar earned feels very similar. A reference, perhaps? —Scott (message me) 02:45, December 10, 2011 (UTC)
There's a picture of it in this essay by Quinn. -- Ken (talk) 05:05, December 10, 2011 (UTC)
Keeping and displaying one's first-earned dollar is a common tradition. I know many businesses that display their first dollar; similarly I have a picture of me at age 6 or 7 with the first dollar I earned. I don't think Jim started this tradition. I think this is different from Jim's tounge-in-cheek shrine to the dollar and capitalism. -- Brad D. (talk) 16:19, December 14, 2011 (UTC)
Yeah, you're right. I just got excited when I saw the picture, and made a connection. —Scott (message me) 07:22, December 17, 2011 (UTC)
Ad blocker interference detected!
Wikia is a free-to-use site that makes money from advertising. We have a modified experience for viewers using ad blockers

Wikia is not accessible if you've made further modifications. Remove the custom ad blocker rule(s) and the page will load as expected.