ATTENTION
TALK PAGES ARE NO LONGER USED
To discuss article changes, please use:
If you see comments on this page, they remain for archive purposes.
NEWLY ADDED COMMENTS WILL BE REMOVED
Time of the Telethon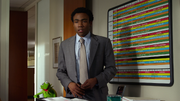 I thought the telethon took place from 10 PM to midnight. Why does the schedule show 9 to 11 PM? -- Ken (talk) 05:15, March 23, 2012 (UTC)
Goof? Here's a screenshot of the board. —Scott (message me) 17:47, April 2, 2012 (UTC)
CDE Chart ID
I've been able to identify 95 of the 100 items on the CDE chart. [[:File:Chart.png|5 items remain unidentified.]] Anyone able to make them out? -- Brad D. (talk) 04:14, March 21, 2012 (UTC)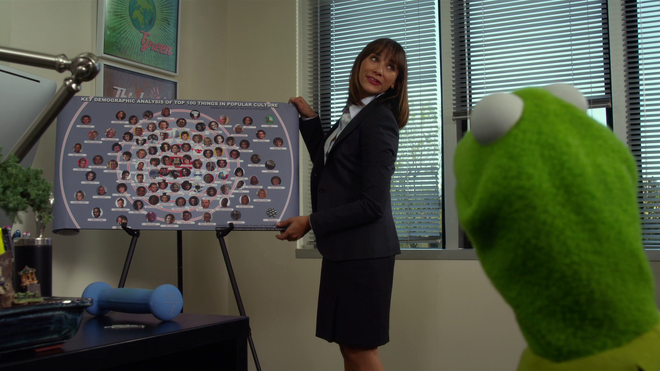 Key Demographic Analysis of Top 100 Things in Popular Culture
Amanda Seyfried
Ben Affleck
Britney Spears
Carrie Mulligan
Chad Ochocinco
Christina Aguilera
Cooking competitions
Courtney Cox
Ellen Page
Eminem
Fantasy sports
Heidi and Spencer
Jay-Z
Jersey Shore

Jennifer Aniston
JJ Abrams
Kristen Stewart
Lauren Conrad
Lebron James
Martin Scorsese
Matt Damon
Meghan Fox
Michael Cera
Michael Phelps
Music downloading
MySpace
The Muppets (off the chart)

Peyton Manning
Pink
Rhianna
Robert Pattinson
Russel Brand
Sarah Palin
Scarlett Johansson
Serena Williams
Shia Lebouf
Sidney Crosby
Simon Cowell
Taylor Lautner
Text messaging
Tom Brady
Uggs
Vampire movies
Will Ferrell
---
I was able to identify 89 of the 100 items on the CDE chart. [http://images1.wikia.nocookie.net/__cb20120312030123/muppet/images/archive/e/e8/20120321040938%21Chart.png 11 items remain unidentified.] Anyone able to make them out? -- Brad D. (talk) 03:04, March 12, 2012 (UTC)
The African-American fellow in the bottom-right quadrant is football player Chad Ochocinco aka Chad Johnson (I only know this because I can make out the respective lengths of his first and last names.) Anthony 01:15, March 17, 2012 (UTC)
Ad blocker interference detected!
Wikia is a free-to-use site that makes money from advertising. We have a modified experience for viewers using ad blockers

Wikia is not accessible if you've made further modifications. Remove the custom ad blocker rule(s) and the page will load as expected.