ATTENTION
TALK PAGES ARE NO LONGER USED
To discuss article changes, please use:
If you see comments on this page, they remain for archive purposes.
NEWLY ADDED COMMENTS WILL BE REMOVED
Voice
The Bruce Edward Hall page says that he did not perform Beth Bear's voice. Is this true? The credits don't seem to imply another performer. -- Peter (talk) 15:14, 12 June 2006 (UTC)
It seems to have been an assumption based on the feminine sound of Beth's voice, but we really have no proof either way. Hall himself is now deceased (been meaning to build up this page, his official site had a nice bio), so it's hard to check on. Andrew Leal (talk) 15:52, 12 June 2006 (UTC)
Since IMDb also credits Brian Muehl, which the actual credits don't, I'm changing the information so Bruce Edward Hall is credited as the only performer. -- Peter (talk) 16:39, 12 June 2006 (UTC)
Official Name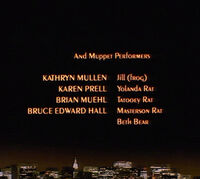 This should be moved back, in my opinion. Bear wasn't tacked on to Beth for disambiguation, that's how she's listed in the credits. Andrew Leal (talk) 04:50, 31 May 2006 (UTC)
Ad blocker interference detected!
Wikia is a free-to-use site that makes money from advertising. We have a modified experience for viewers using ad blockers

Wikia is not accessible if you've made further modifications. Remove the custom ad blocker rule(s) and the page will load as expected.