ATTENTION
TALK PAGES ARE NO LONGER USED
To discuss article changes, please use:
If you see comments on this page, they remain for archive purposes.
NEWLY ADDED COMMENTS WILL BE REMOVED

Source
I found this press photo caption on eBay which lists the date of the group's first appearance (February 12, 1992; which, if the TV IV is to be believed, would be Episode 2943). -- Jon (talk) 12:57, October 23, 2012 (UTC)
Who is this dancer? (in 3775)
Anyone recognize him by face? --MuppetVJ14:55, 10 March 2009 (UTC)
Mark Morris. -- MuppetDude 15:39, 10 March 2009 (UTC)

Wow, thanks. How long did it take you to figure it out? --MuppetVJ 15:42, 10 March 2009 (UTC)

Actually, not that long. Several years ago, I found that someone made a list of Sesame Street inserts (which unfortunately is no longer around), and three of them were this series, which specifically named the dancer. I had no idea who Mark Morris was (outside of being a dancer) until I needed to confirm his identity for the Wiki. -- MuppetDude 15:51, 10 March 2009 (UTC)
What continent or country is the Glass dance from?
I'm guessing it's from some Asian country, but I would like to know what country it is from.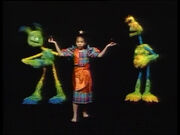 Ad blocker interference detected!
Wikia is a free-to-use site that makes money from advertising. We have a modified experience for viewers using ad blockers

Wikia is not accessible if you've made further modifications. Remove the custom ad blocker rule(s) and the page will load as expected.