Talk pages are no longer used.
Please use the Forum for discussing article changes.
Baby David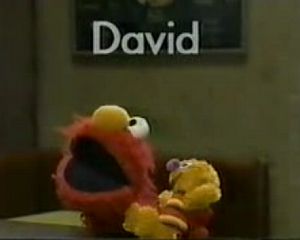 I've seen at least two sources that refer to this toy as Baby David. That's his name in the Potty Time with Elmo book (reference), and in a StoryReader cartridge called Learn with Elmo (reference).
Anybody interested in moving this article to Baby David? -- Danny
(talk) 06:52, 12 July 2008 (UTC)
That's interesting, but in the toy's very first appearance (which Guillermo uploaded here; the second clip), the name is explicitly just David, named after David (though Elmo does refer to the toy as his "new babydoll.") In general, the doll appears as a background prop more often than it's named, so I'd be hesitant to move this (especially since my own inclination is that the original on-screen appearance trumps recent merchandise) without further evidence gathering. -- Andrew Leal (talk) 07:21, 12 July 2008 (UTC)
Ack. I just recently caught a video clip on Sesamestreet.org in which Elmo refers to his doll as Baby David. I can't find it right now, but I'll be on the lookout. —Scott (talk) 23:59, 26 September 2008 (UTC)
"Baby David" is also used in Bedtime with Elmo. —Scott (talk) 01:16, 13 July 2009 (UTC)