ATTENTION
TALK PAGES ARE NO LONGER USED
To discuss article changes, please use:
If you see comments on this page, they remain for archive purposes.
NEWLY ADDED COMMENTS WILL BE REMOVED
Steve Jobs Is a Person in Your Neighborhood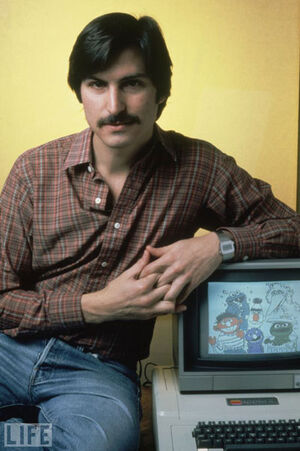 Info parking, basically, since I found this in my Muppet Wiki image file. I'm not sure if I just got it from Getty Images at one point or if there was some context, but it's a young Steve Jobs apparently promoting Mix and Match. If anyone can find out more, feel free to share, but I thought I'd put it here, for anyone who wants to work it into the article. -- Andrew Leal (talk) 07:54, February 18, 2010 (UTC)
Jobs also just got the 2009 The Jim Henson Celebration Honor. -- Brad D. (talk) 16:44, February 18, 2010 (UTC)

If you run the image through TinEye, there's multiple copies of this image on the internet, haven't gone through any of them to see if they tell anything about the pic. -- Zanimum 16:46, February 19, 2010 (UTC)
Ad blocker interference detected!
Wikia is a free-to-use site that makes money from advertising. We have a modified experience for viewers using ad blockers

Wikia is not accessible if you've made further modifications. Remove the custom ad blocker rule(s) and the page will load as expected.