ATTENTION
TALK PAGES ARE NO LONGER USED
To discuss article changes, please use:

If you see comments on this page, they remain for archive purposes.
Paul Simon version
I know I added the info about the Paul Simon and Ladysmith Black Mambazo version, and that was based on what I saw written in an episode page that featured the skit. I saw it on youtube recently, and it looks to me like they were just reciting the alphabet. I didn't notice them singing the same lyrics. So I'm wondering, should this be on the page? --Minor muppetz 02:11, May 23, 2010 (UTC)
Seems like the same lyrics to me. Wattamack4 14:00, May 23, 2010 (UTC)Alex
Video for reference, the way they sing the letters is the same, especially the ending. - Oscarfan 14:32, May 23, 2010 (UTC)
Well, I agree about the ending being the same, but they seem to sing the alphabet at a faster pace. And I would have expected Paul Simon to sing Kermit's lines from the song. --Minor muppetz 19:00, May 28, 2010 (UTC)
Which version is better?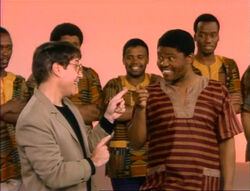 I have uploaded the Ladysmith Black Mambazo singing "African Alphabet" with Paul Simon. And made it a video reponses to the one with Kermit the Frog. The version I remember was the one with Ladysmith Black Mambazo and Paul Simon. Does anyone remember that version? -- User:BuddyBoy600