ATTENTION
TALK PAGES ARE NO LONGER USED
To discuss article changes, please use:
If you see comments on this page, they remain for archive purposes.
NEWLY ADDED COMMENTS WILL BE REMOVED
image parking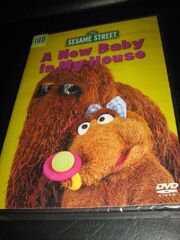 Parking this here. Max added it, and per this conversation, he doesn't know anything about it that's not on the ebay listing. It smells like a bootleg to me. —Scott (message me) 06:15, April 1, 2012 (UTC)
Uh, Scott? I believe that the DVD has been distributed by Viva Video and wasn't authorized by Sony Wonder and/or Sesame Workshop. Googling "Viva Video" and I got some results for the official website for Viva Entertainment Inc. of Philippines origin. -- Max (talk to me) 06:26, April 1, 2012 (UTC)
contents
Was the material on this video original to this title, or were the segments pulled from past episodes? — Scott (talk) 00:24, 29 September 2006 (UTC)
I'm planning to update this page. It's not evenly divided into sections as the description implies. All the Snuffy footage and Prince Firstly is entirely new. The only recycled elements are a couple of film inserts, like Craig Bartlett's "Lillian, Big Sister." It's basically an original direct to video production. -- Andrew Leal (talk) 01:13, 29 September 2006 (UTC)
Ad blocker interference detected!
Wikia is a free-to-use site that makes money from advertising. We have a modified experience for viewers using ad blockers

Wikia is not accessible if you've made further modifications. Remove the custom ad blocker rule(s) and the page will load as expected.