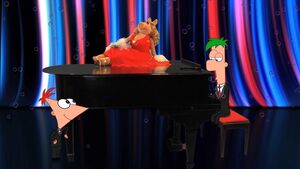 Take Two with Phineas and Ferb is a series of Disney Channel interstitials which feature the animated stars of the series Phineas and Ferb interviewing various celebrities.
A segment guest starring Miss Piggy debuted on ABC on August 20, 2011 during the network television premiere of the made-for-TV movie Disney's Phineas and Ferb the Movie: Across the Second Dimension. It first aired on Disney Channel on September 9, 2011, following the channel's premiere of Pixar's Up. In the segment, Miss Piggy shows off her karate skills by making an ice sculpture of herself and raps "Spa Day."
A number of other celebrities that Phineas and Ferb have interviewed have also performed with Muppets, including David Beckham, Tom Bergeron, Jack Black, Cedric the Entertainer, Selena Gomez, Neil Patrick Harris, Tony Hawk, Randy Jackson, Larry King, Howie Mandel, Ty Pennington, Regis Philbin, Andy Samberg, Jason Segel, and Ben Stiller.
References
Muppet Mentions
In the Phineas and Ferb episode "Robot Rodeo," at one point, Linda repeats a mantra of "Cake is a sometimes food", a parody of "A Cookie is a Sometime Food."
Connections
Sources
↑ 1.0 1.1 Billington, Alex. Producers Compare 'Phineas & Ferb' Film to 'Roger Rabbit' Hybrid Mix FirstShowing.net. November 7, 2011.