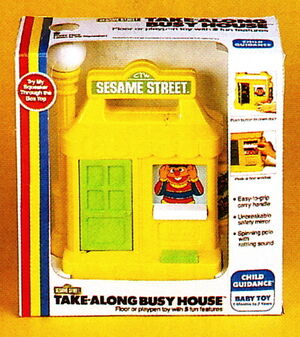 Take-Along Busy House is a Sesame Street baby toy produced by CBS Toys in 1984, under the Child Guidance label. The plastic house takes the general shape of Hooper's Store, with the Sesame Street signpost nearby.
The toy combines five activities that teach motor skills. A button can be pushed to reveal Cookie Monster behind a door, the window ledge can be raised and lowered to show Ernie playing peek-a-boo, the barber pole spins to show flying Twiddlebugs, the signpost has a squeezable squeaker at the top, and a safety mirror decorated with Big Bird and Little Bird can be examined.
Ad blocker interference detected!
Wikia is a free-to-use site that makes money from advertising. We have a modified experience for viewers using ad blockers

Wikia is not accessible if you've made further modifications. Remove the custom ad blocker rule(s) and the page will load as expected.