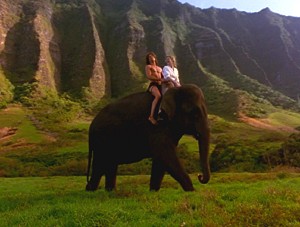 Tai (b. 1968) is a trained elephant who has had a successful performing career in films, television, and commercials. Weighing 8,800 pounds, Tai portrayed faithful Shep in the Creature Shop film George of the Jungle, and received screen credit for the role.
Tai's film resume includes a featured part in Rudyard Kipling's The Jungle Book opposite John Cleese, a cameo in Whoopie Goldberg's Made in America, and starring roles in Operation Dumbo Drop and Larger Than Life. The elephant has also appeared in magazine covers and print ads for the likes of Vanity Fair (with Madonna) and Chanel, and has also posed with Goldie Hawn. In 2002, the elephant was a featured guest on the Sci Fi Channel series Jeremiah.
External links
Ad blocker interference detected!
Wikia is a free-to-use site that makes money from advertising. We have a modified experience for viewers using ad blockers

Wikia is not accessible if you've made further modifications. Remove the custom ad blocker rule(s) and the page will load as expected.