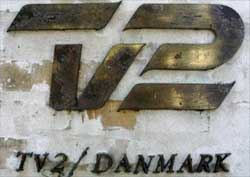 TV 2/Denmark, the second national tv channel in Denmark (DR is the first), went on air October 1st, 1998. TV 2 was created as an independent company with public service obligations. Although it received some money from the goverment, its main source of income was commercials, which could only be shown between programs. In 2003 the station was purchased by the Danish state which plans to sell stock to investors at a later date when all the details of the sale have been decided.
There are eight regional stations connected to TV 2 (TV2/NORD, TV SYD, TV2/FYN, TV/MIDT-VEST, TV2/Lorry, TV 2/ØSTJYLLAND, TV 2/BORNHOLM & TV2 ØST ). Each of these stations operates independently and mainly serves to broadcast local news three times a day.
TV 2 has the last few years launched associated satellite/cable channels: "TV 2 Zulu" for ages 15-40 in 2002, "TV 2 Charlie" for adult programming in 2004, "TV 2 Film" for movies in 2005, "TV 2 News" a 24 hours news channel in 2006, "TV 2 Sport" was launched in April, 2007, in corporation with Viasat, that closed down its own three sport channels, two more "TV 2 Sport" channels will are planned for 2007 called "TV 2 Sport Extra" and one dedicated to golf. TV 2 Plans on following the tradition of starting a new channel each fall in 2007, however the content of the channel have not yet been decided.
Broadcasted Productions
External links