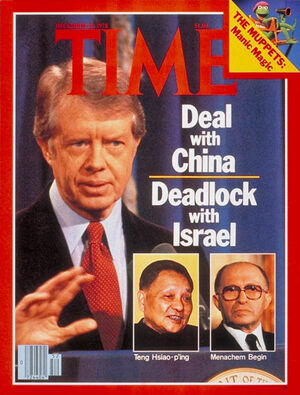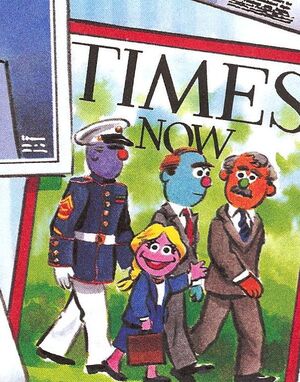 TIME is a weekly newsmagazine which has been published since 1923. Covering events in American politics, world news, and entertainment, the Muppets have been featured in several articles over the years. During the run of The Muppet Show, the magazine's "People" section often had brief blurbs on the show's guest stars and their relationship with the Muppets, and resident critic Richard Corliss reviewed most of the films, including a comment that The Dark Crystal was Jim Henson's bleak "foray into the art, dammit, of puppetry."
Notable Appearances
November 23, 1970: "Who's Afraid of Big Bad TV?" (cover story). A profile of Sesame Street, praising the show as TV's best children's series. The in-depth article includes sections on its development, Muppet characters, human cast, possible influence on children's television in general, and competition.
December 30, 1985: "People"- Brief piece on Miss Piggy to promote The Muppets: A Celebration of 30 Years, and including a quote by Piggy regarding her age: "By no stretch of the imagination am I anywhere near the age of 30," she snorts. "I fell in love with a much older frog. I consider the matter closed."
June 8, 1998: "The TV Creator," an in-depth tribute to Jim Henson, selected as part of the special Time 100 issue and acclaimed as the "Most Influential TV Creator."
June 20, 2011: "Comeback Kids: A visit to the set of the new Muppets film" by Joel Stein
References
Sources
↑ Jim Henson's Red Book December 25, 2011
See also