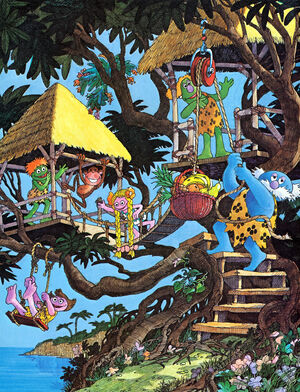 The Swiss Family Robinson is a novel that was first published in 1812 about a Swiss family who are shipwrecked in route to Australia. Originally written by pastor Johann David Wyss, the novel was written as a teaching tool for children, but it followed in the format of another popular novel, Robinson Crusoe. The German translation of the title, Der Schweizerische Robinson, is "The Swiss Robinson", implying a Swiss version of Robinson Crusoe, rather then a Swiss family named Robinson.
The book, and its many adaptations in both print and on screen, were the inspiration for the television series Lost in Space.
The story was spoofed in The Sesame Street Storytime Calendar 1982. Professor Hastings is cast against type as the father (clad like the rest of his family in a Tarzan loincloth), and the family includes two daughters (Prairie Dawn and Betty Lou) and a son, rather than the three boys in the novel.