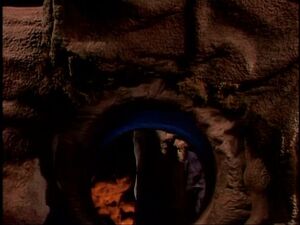 Swinging Boulder is a location/phenomena featured in Fraggle Rock Episode 311: The Beanbarrow, the Burden and the Bright Bouquet. The "boulder" is a hollowed out circular stone that shifts, on its own, back and forth dividing two separate tunnels. The left tunnel leads to Table Rock Cavern and "a patch of Clinging Creepers" while the right tunnel leads the finish line of The All-Day, Cross-Cave Beanbarrow Race.
Ad blocker interference detected!
Wikia is a free-to-use site that makes money from advertising. We have a modified experience for viewers using ad blockers

Wikia is not accessible if you've made further modifications. Remove the custom ad blocker rule(s) and the page will load as expected.