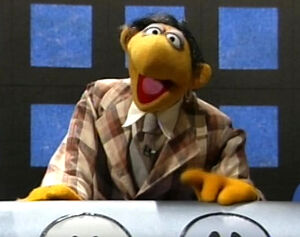 Swift Wits is a game show hosted by Snookie Blyer which appeared as a recurring UK spot on Muppets Tonight. In each installment, the contestants must answer the secret word before their 10 seconds is up in order to save the cute furry animal's life that they are playing for. Unfortunately, all the contestants get the answers wrong, thus sealing the fate of said cute furry animal, which is immediately consumed by Carl the Big Mean Bunny. The game show had one contestant, Arthur Modell, who got the answer right, but Carl eats the furry animal anyway and the contestant as well.
Ad blocker interference detected!
Wikia is a free-to-use site that makes money from advertising. We have a modified experience for viewers using ad blockers

Wikia is not accessible if you've made further modifications. Remove the custom ad blocker rule(s) and the page will load as expected.