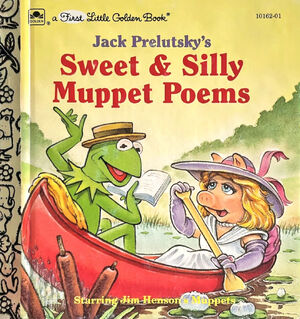 Sweet & Silly Muppet Poems is a First Little Golden Book of short poems about Muppet Show characters, written from the point of view of Kermit the Frog. It reprints material from Kermit's Garden of Verses, but with new illustrations.
Contents
"Fozzie Bear?": A description of the clumsy but loveable Fozzie Bear.
"Gonzo Will Do Anything": Kermit's appreciation of the amazing and unflappable Gonzo.
"Miss Piggy": A cautionary tale about what happens to people who insult Miss Piggy.
"My Garden": Kermit's description of the quiet place he goes to after the show is over.
Characters
Kermit the Frog, Miss Piggy, Gonzo, Fozzie Bear, Scooter, rats, chickens