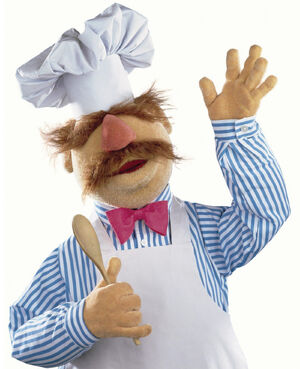 Sweden is a European country and is the largest of the Nordic countries. Sweden is the first country most people think of when Scandinavia is mentioned. Sweden borders Norway in the west, and Finland in the northeast.
In 1976, Sveriges Television showed a dubbed version of Sesame Street called Sesam. In 1981, Sweden got its own, short lived, co-production of Sesame Street, called Svenska Sesam. One special thing about the show that differed from other Sesame Street co-productions was that all the local-produced segments did not contain any puppets.
References
An indirect reference was made in The Muppet Show Episode 524 where Kermit introduced the Viking number In the Navy, calling the Vikings "cruel, heartless Scandinavian marauders" and "worst human beings in history" (and is physically chastised by the Swedish Chef as a result).
Dubs
Only productions aimed at young children are dubbed in Sweden. The Muppet Show, Dinosaurs, and other Henson productions aimed more specifically at adult viewers have never been dubbed, but instead have been shown with Swedish subtitles.
Dubs of Muppet/Henson productions include the following:
TV Stations
Ad blocker interference detected!
Wikia is a free-to-use site that makes money from advertising. We have a modified experience for viewers using ad blockers

Wikia is not accessible if you've made further modifications. Remove the custom ad blocker rule(s) and the page will load as expected.