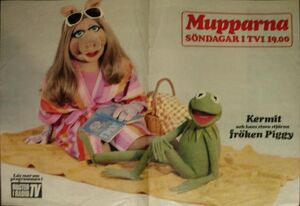 Sveriges Television (or SVT) is the Swedish national broadcasting company, frounded in 1956 (as Sveriges Radio TV). SVT follows the model of the BBC in many ways, including license fees and having multiple channels differentiated by number.
SVT was the channel which broadcast The Muppet Show (as Mupparna) in Sweden. It also aired the Sesame Street dub Sesam and full co-production Svenska Sesam. Other Muppet programs aired by SVT include Fragglarna (Fraggle Rock), Leksakernas Hemliga Liv (The Secret Life of Toys), and Nalle har ett Stort Blått Hus (Bear in the Big Blue House.)
Ad blocker interference detected!
Wikia is a free-to-use site that makes money from advertising. We have a modified experience for viewers using ad blockers

Wikia is not accessible if you've made further modifications. Remove the custom ad blocker rule(s) and the page will load as expected.