Ad blocker interference detected!
Wikia is a free-to-use site that makes money from advertising. We have a modified experience for viewers using ad blockers

Wikia is not accessible if you've made further modifications. Remove the custom ad blocker rule(s) and the page will load as expected.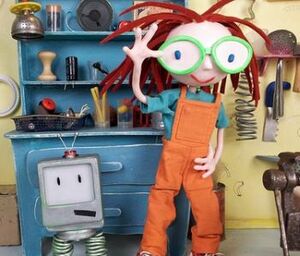 Susi Schraube is a stop-motion animated little girl who loves to invent things. She starred in a series of Sesamstrasse segments beginning in 2012. Her companion is Freddy, a computer who resembles a television with legs and shows her letters from other kids with different questions and problems. She invents machines to solve them.
Susi's last name is the German word for screw, indicating her mechanical talents. 26 segments were produced.
Credits
Produced by Cecile Noldus and Elk Art Productions
Animation: Cecile Noldus, Dirk Bertram
Set and puppet building: Cecile Noldus
Music, sound, editing: Dirk Bertram
Voice of Susi: Zoe Hausstädter
Narrator: Tom G. Westphal
External links