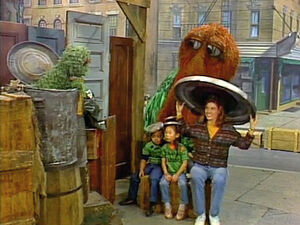 Susan Saint James (b. 1946) is an actress most well known as Kate McArdle on the 1980s sitcom Kate & Allie, which also starred Jane Curtin, Ari Meyers, and Allison Smith. She has also appeared in episodes of M*A*S*H, The Drew Carey Show, Law & Order: Special Victims Unit and hosted Saturday Night Live.
She appeared on Sesame Street at a Grouchketeer meeting. Oscar says she can't be one of them because she's too big, and compares her to one of the regular Grouchketeers. When Snuffy shows up late and lets Susan borrow his lid, Oscar doesn't approve, so he ends the meeting. (EKA: Episode 2977)
External links
Ad blocker interference detected!
Wikia is a free-to-use site that makes money from advertising. We have a modified experience for viewers using ad blockers

Wikia is not accessible if you've made further modifications. Remove the custom ad blocker rule(s) and the page will load as expected.