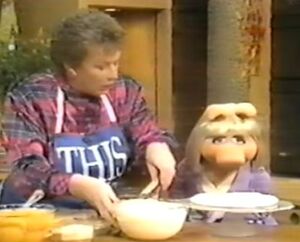 Susan Brookes is a British celebrity chef who duked it out with Miss Piggy in a 1993 pudding cooking segment on the British morning show This Morning. Miss Piggy questions her abilities, and Brookes questions the validity of her relationship with Kermit.
At the end, Piggy contradicts Brookes, stating that indeed they haven't had a falling out, and Brookes asks for a kiss to make up.
Brookes has appeared on Live Lunch and in the 2006 documentary program The Bitchiest Ever TV Moments. With Brian Turner, she co-edited the book Get Cooking!: With 'This Morning' (1996).