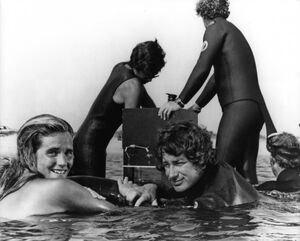 Susan Backlinie is a former actress and stunt double best known for playing Chrissie Watkins, the first victim of a killer shark in Jaws.
Backlinie appears as a member of Charkey's Water Ballet in "Piggy's Fantasy" from The Great Muppet Caper.
Her other credits include appearing in Steven Spielberg's 1941 (in which she spoofed her appearance in Jaws), Day of the Animals (with Leslie Nielsen) and Two-Minute Warning (with Charlton Heston).
External links
Ad blocker interference detected!
Wikia is a free-to-use site that makes money from advertising. We have a modified experience for viewers using ad blockers

Wikia is not accessible if you've made further modifications. Remove the custom ad blocker rule(s) and the page will load as expected.