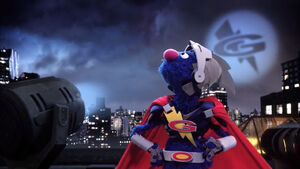 Super Grover 2.0 is the Swedish dub of the Sesame Street segment Super Grover 2.0.
The six-minute show does not contain its own localized title card.
Character Translations and Voices
Additional voices
Sanna Ekman
Marie Robertson
Mattias Knave
Additional credits
Translation by Per-Arne Ehlin
Dubbing by Eurotoll AB
Ad blocker interference detected!
Wikia is a free-to-use site that makes money from advertising. We have a modified experience for viewers using ad blockers

Wikia is not accessible if you've made further modifications. Remove the custom ad blocker rule(s) and the page will load as expected.