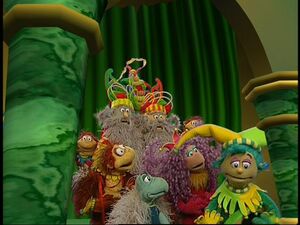 "Super-Doo, Oo, oo, oo" is a little ditty that Elwood, King Lindy of Lime, King Noogle, Princess Mindy and The Wickershams sing while enjoying their new friends. As the Werisomes are grunting along with the song one of them bobs Yertle the Turtle up and down to the beat. This song was featured in the episode The King's Beard of The Wubbulous World of Dr. Seuss.
Ad blocker interference detected!
Wikia is a free-to-use site that makes money from advertising. We have a modified experience for viewers using ad blockers

Wikia is not accessible if you've made further modifications. Remove the custom ad blocker rule(s) and the page will load as expected.