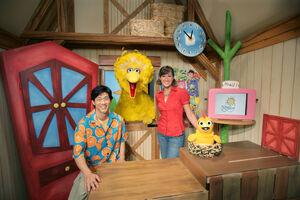 Sunny Side Up (previously known as The Sunny Side Up Show before 2015) is a live block of short format interstitial programming on Sprout (formerly PBS Kids Sprout) hosted by one human and one puppet named Chica the Chicken. The human hosts rotate, as do the puppeteers for Chica. The current Chica puppeteers are Brendon Gawel, Jackie Payton, Kim Diaz, and Scott McClennen. The current human hosts are Emily Borromeo, Carly Ciarrocchi, Tim Kubart, and Kaitlin Becker. 
Appearances
Fall 2007: Big Bird (Matt Vogel) appears. The show was then also hosted by Kevin Yamada.
February 14, 2008: Prairie Dawn (Fran Brill) helps make Valentine's Day cards, share Valentine's wishes, and take viewer calls.
April 24, 2008: Oscar the Grouch (Caroll Spinney) appears for a special week long celebration of Earth Day.
December 31, 2008: Grover (Eric Jacobson) visits The Sunshine Barn, and will help "sing" in the New Year in a morning countdown. Super Grover also makes an appearance.
January 1, 2009: Super Grover and Chica celebrate a "Super New Year's Party".
December 15, 2009: Elmo (Kevin Clash) appeared live from 9 am to noon.
November 30, 2010: Elmo appeared live from 9 am to noon.
December 13, 2011: Elmo appeared live from 9 am to noon.
January 4, 2012: Abby Cadabby (Leslie Carrara-Rudolph) appeared live from 9 am to noon.
January 11, 2013: Squacky (Victor Yerrid) from Pajanimals appeared from 9 am to noon.
February 28, 2014: Oscar the Grouch (Caroll Spinney) appeared to help celebrate "Oscar Weekend."Oscar's right hand was performed by Haley Jenkins. 
February 21, 2015: Oscar the Grouch (Caroll Spinney and Eric Jacobson) returned for another "Oscar Weekend."
References
In October 2012, the show celebrated "Numbers Week." Hosts Dennisha and Chica dressed up as the Count and counted fruit in his trademark fashion.
External links
Ad blocker interference detected!
Wikia is a free-to-use site that makes money from advertising. We have a modified experience for viewers using ad blockers

Wikia is not accessible if you've made further modifications. Remove the custom ad blocker rule(s) and the page will load as expected.