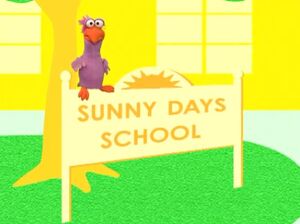 Sunny Days School is a school featured in the 2004 Sesame Street video Happy, Healthy, Ready for School. Elmo attends pre-school in Mrs. Danni's class at Sunny Days along with Luca, Rico, Tony, and Jan. Other students of Sunny Days School include Telly (who takes an advanced triangle class) and Rosita (who has a music class there).
Ad blocker interference detected!
Wikia is a free-to-use site that makes money from advertising. We have a modified experience for viewers using ad blockers

Wikia is not accessible if you've made further modifications. Remove the custom ad blocker rule(s) and the page will load as expected.