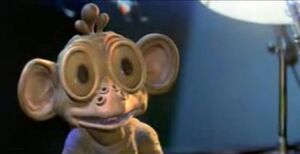 British puppeteer Sue Dacre is a puppet maker and performer, adept at numerous forms of puppetry, including animatronics, Bunraku, shadow, marionette, and rod puppets. She has worked with the Jim Henson Company on many occasions. Her other work in film and television has included performing in various British children's programs like Cloppa Castle, Dizzy Heights, Wizadora, Step Inside and Decameron. She was an assistant Puppeteer on Jack Pumkinhead in Return to Oz and was one of the principal puppeteers on Audrey II in the film version of Little Shop of Horrors. Dacre is quite active in the London theater world, and has enjoyed performing in pantomimes and many productions at the Little Angel Theatre. She has recently made puppets for various companies including Oily Cart, Birmingham Stage Company and the The Little Angel Theatre. She has been a tutor for the London School of Puppetry.
Henson Credits
External links
Ad blocker interference detected!
Wikia is a free-to-use site that makes money from advertising. We have a modified experience for viewers using ad blockers

Wikia is not accessible if you've made further modifications. Remove the custom ad blocker rule(s) and the page will load as expected.