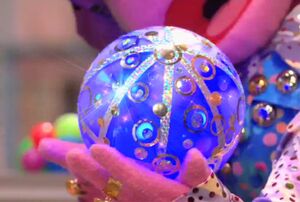 Stupendous Ball is a toy sold by a salesperson in the Sesame Street video, For Me, For You, For Later. Unlike other balls (such as the cheaper Stinky Ball, Average Ball and Fantastic Ball), Stupendous Ball is able to play music and light up with many colors.
Elmo, possessing a single dollar, wishes to buy the Stupendous Ball from the woman, but learns it costs five dollars. Once Elmo finally has enough money for it, he gives a dollar to Cookie Monster to help him buy cookies. Now with only four dollars, Elmo buys the Fantastic Ball, which he finds suitable. Stupendous Ball seems to have a mind of its own, getting jealous with Fantastic Ball and ending up in a tree at the video's end.
Matt Vogel is credited as the ball's manipulator throughout the video.
See also