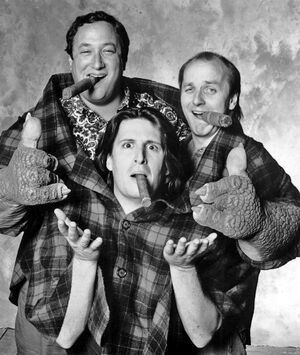 Stuart Pankin (b. 1946) is a comedic character actor who supplied the voice of Earl Sinclair on Dinosaurs.
Pankin's television credits include regular roles on the prime-time soap operas Knot's Landing (as Benny Appleman) and Falcon Crest (as Jace Sampson), plus regular sitcom roles on Not Necessarily the News and No Soap Radio and guest appearances on Malcolm in the Middle, Barney Miller, Dharma and Greg, and Curb Your Enthusiasm.
Film roles include the blustery sheriff in Archnophobia, a sleazy lawyer in Mel Brooks' Life Stinks, and Rick Mornais' brother in Honey We Shrunk Ourselves, along with principal supporting parts in Love at Stake, Fatal Attraction, and Squanto: A Warrior's Tale.
External links
Ad blocker interference detected!
Wikia is a free-to-use site that makes money from advertising. We have a modified experience for viewers using ad blockers

Wikia is not accessible if you've made further modifications. Remove the custom ad blocker rule(s) and the page will load as expected.